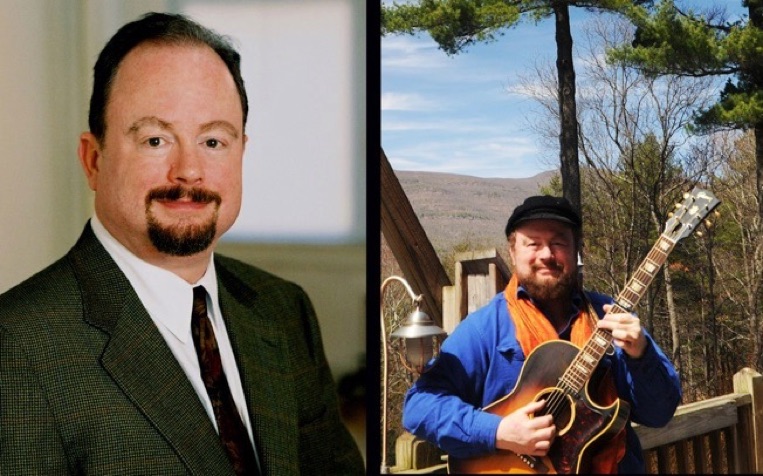 My Multiple Musical Lives - By Gilbert Hetherwick
I was born and raised in Shreveport Louisiana where I grew up in a family rich in musical traditions. My Grandmother Baba (who helped raise me) was a trained classical pianist who studied at the Cincinnati Conservatory of Music (formed in 1867.... now part of the University of Cincinnati) and as a child I also learned about classical music as well as Broadway shows from my father's record collection, and folk music from my sister's Peter Paul & Mary and Joan Baez albums. My father had a band as a kid called "The Red Hot Ramblers" in the 1930s in Shreveport and played great mandolin and piano. I have his mandolin today and you hear it all over my recordings.
I gravitated toward blues, rock, folk, and country when I began playing instruments at the age of twelve. Like everyone else my age... I was blown away by The Beatles on Ed Sullivan... but it was after hearing Bob Dylan's "Bringing It All Back Home" album in 1965 that my life was changed forever.
Soon after beginning to play the guitar I began to write songs. I graduated from L.S.U. with a degree in Architecture while also pursuing painting and photography, as well as songwriting and performing on the side.
After finishing college I moved to New Orleans where I began playing the local clubs (including a regular monthly night at the legendary Tipitina's). I also worked as an opening act for major touring acts in larger venues and in this capacity worked with Tom Waits, John Prine, Leon Redbone, Johnny & Edgar Winters, Tim Curry, Jerry Jeff Walker, Paul Butterfield, The Mamas & The Pappas (Reunion "of sorts"), The Association, Jerry Jeff Walker, Gato Barbieri, David Allan Coe, Jean-Luc Ponty and even a Timothy Leary lecture tour ! (An incredible guy actually).
For most of this time I had a "day gig" working for Leisure Landing Records in Baton Rouge... and later New Orleans... where I took on the job of classical manager... buyer... and floor walking "expert"... because I had actually learned a lot about classical music throughout my life....I LOVED IT... AND I could properly pronounce the names!
I also hosted the first "New Wave" music festival at Jimmy's club in New Orleans. My Co-Host was a bondage stripper from Bourbon Street. I was dressed like a business man in a suit and tie.... it didn't go well. The stripper and I left and walked down to the "Toddle House" for a burger to escape the weirdness for awhile. Her in her outfit with her whip and me looking like a shaggy businessman. The place was filled with cops. But this was New Orleans in 1979... they didn't even notice us.
As we were walking back we ran into friends who were just arriving... just as she was demonstrating how to "crack the whip" above her head... as she does onstage. To my friends' credit... they never asked me a thing later.
So yes... I lived a fairly undignified life of a mild bohemian for quite a few years in the late 70s and early 80s while playing music and working at Leisure Landing Records in "The Big Easy". I had a SMALL "cult following". And I got a good bit of work performing at the time. I certainly don't regret it. I still love performing today.
CALL or TEXT 845-246-1852
(between 7:AM and 9:00PM E.T.)
Or EMAIL ME at
I had a GREAT band for a couple of years featuring the legendary Tommy Comeaux as multi-instrumentalist on guitar, mandolin, saxophone, and pedal steel. When our manager at the time saw this publicity photo he said... "You look like convicts!" The band also featured the amazing "Charlie Watts type precision" drumming of Steve Wheless. Steve held my insanity back in the same way that Charlie Watts does with Keith Richards. It gave us an edge. Here is some of our publicity and a sound file of us opening up for Johnny Winter at a New Orleans club called "Old Man River".
I also have owned quality recording gear and microphones since 1978... when after paying to make an EP in a "big" studio... I decided that I needed to learn how to do it myself. I produced classical artists as well as multiple punk bands in New Oreans at my first "Grouse House Studio" in the Irish Channel and later in the Faubourg Marigny... where I also made the first recording of the incredible Dirty Dozen Brass Band for legendary radio station WWOZ in their VERY early days. Through my running of Leisure Landing's classical record store in the daytime I knew all of the college music "freaks & geeks" in the area... and I dragged a nice two track... two microphones... and a DBX Expander/Compressor noise reduction unit to a lot of recitals.
I've been producing my own recordings for almost 40 years now as my chops and equipment have improved greatly over time. CLICK HERE TO HEAR MY MUSIC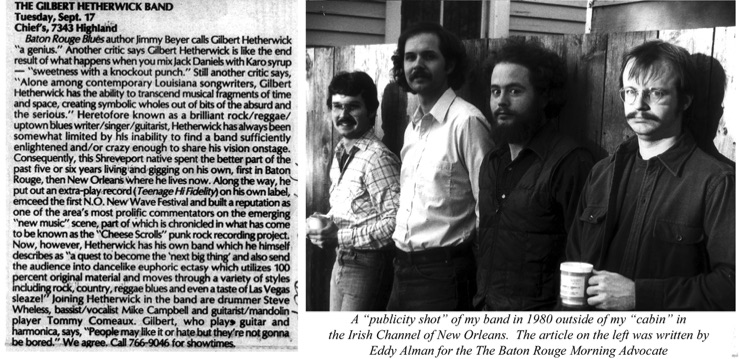 After many years in New Orleans... through a series of professional accidents... I developed a career on the business side of music when my "day gig" of running a gorgeous ALL CLASSICAL shop that Leisure Landing had opened... led evenutally to a job working for PolyGram Classics (now Universal) as their Regional Marketing Manager for the Southwest. Seven labels, eleven promotions, four cities, and twenty years later I became President of the then newly merged Sony BMG Entertainment's classical division which I renamed "Masterworks"... pointing back to the legendary label's history before Sony.
But I "grew up" in the business working for Bob Woods & Jack Renner at the prestigious Telarc label in Cleveland Ohio (VP Sales & Marketing) in the 1980s where I witnessed first hand the passion and precision that goes into REALLY GREAT audio recordings. I worked for Angel/EMI Classics TWICE in two four-year contracts (first as VP Sales & Marketing and later as the General Manager of the legendary label). Before coordinating the Classical merger of Sony and BMG I was the General Manager of BMG Classics (RCA Red Seal) in New York. My experience includes everything from sales and marketing to album production as well as artist and repertoire (A&R) responsibilities.
I have worked in multiple capacities with a wide variety of artists including Ravi Shankar, Thomas Hampson, Kiri Te Kanawa, Placido Domingo, Jay Ungar & Molly Mason, Roberto Alagna, Roger Waters (Pink Floyd) , Joan Baez, Bernadette Peters, Sarah Brightman, Itzhak Perlman, Yo-Yo Ma, Nadja Salerno-Sonnenberg, Danny Elfman, John Bayless, Joshua Bell, Paul McCartney (marketing his classical stuff) , Liza Minnelli, Bobby McFerrin, Sarah Chang, Melissa Erico, Rick Wakeman, The Five Browns, Mark O'Connor, Christopher Parkening, BOTH John Williams (composer & guitarist), Angel Romero, Pablo Villegas, The Eroica Trio, Byron Janis, Evgeny Kissin, Kristin Chenoweth, The 5 Browns (3 #1 Classical albums) and many others.
And I apologize to all of the artists that I left out!
Did I ever sell anything? NO... but I never really tried that much. I do it because I love it... and I DO believe in my music. People seem to really like it. But I've never been taken seriously in "that" world as mainly people think of me as a "suit" in a musical world far... far... away. Plus I've always had kind of an introverted anti-ego that hates "selling" myself. I'm VERY proud of all of my songs... almost.
There were also a lot of weird things in music executive contracts about how anything an employee did in music in any way became the property somehow of the parent company for which they worked. It was called "anti-competition" for a reason that I never really understood considering my position. At EMI it held up my General Managers contract at Angel Records for months until Ken Berry himself FINALLY told HR to give it to me. I wasn't going to sign as I was writing my "psychedelic folk pop music" DREAMS FOR ALICE at the time... And WHY THE HELL should THEY own a part of it? I was hired to run a small label. Not write music for them. It was ridiculous. But I won the small battle. Thank you MR. Salomon!
I honestly only tried to "sell" myself as a musician and songwriter back in my twenties when I was "playing out" in clubs and trying to "make it". I came close a couple of times... but that only counts in hand grenades!
When I went to work for labels I quit trying to sell the music and made the albums for the fun & love of it. A lot of really personal stuff... it was an outlet for me. And still is.
I would ship 300 copies and PROUDLY say that the album went "triple copper!".
Though today I DO get some moderate royalties for online sales... mainly from my latest album NIGHT SONGS & LAMENTS or tracks like THE CHESHIRE CAT SONG from the musical. People seem to LOVE THOSE CATS!
And Lately I am trying to sell some new SOUNDTRACKS ... which are instrumentals for television... films... or commercials. Another tough world. But it's great fun writing it. Liberating to not have to worry about the words!
And I DID try to sell the musical... But keep in mind that U2 with Julie Taymore took YEARS of hard work to get The Spiderman franchise onto Broadway... And I'm a complete nobody in that world. It's damned near imposible. But hey... there's still hope! As I do still believe in the show and now do it "on request" as a "one man show about the show within a show".... for "crowds" of between 2 and 22 here on the beautiful Grouse House Studio Stage... with great sound ... sound effects.... and a little Lewis Carroll history in between songs. AND you can walk the trails before and during the break! We work out a time that's good for both of us!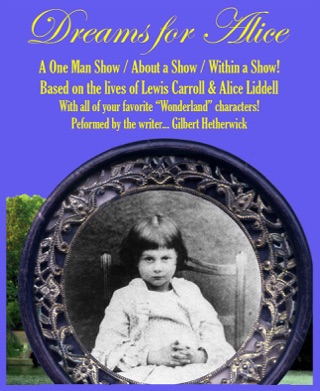 I was most thankfully fired from Sony/BMG in yet another downsizing at the end of 2006. I HATED the job at that point... all lawyers and human resources people and constantly "letting people go". Being fired was one of the happiest days of my life until I learned that they also "let go" most of my staff after I left the building. THAT hurt.
I sold my condo at the top of the market and fled Manhattan for the beauty of The Catskills.
Where I am now working as an independent consultant and recording producer for musical artists in many different genres here at THE GROUSE HOUSE STUDIO
I also occasionally write about music in a column called "Music Appreciation" for the High End Audio website The Audio Buzz.
And I publish my own online newspaper called THE GROUSE HOUSE GAZETTE ... primarily covering politics... which is so far to the left that they barely let me vote... so PLEASE don't go there if you think it's just going to piss you off. Let's just agree to disagree. But I do also sometimes write about nature... wildlife... and music in the Gazette. There are now over 120 editions... with all of 2015 and 2016 available online.
And I also operate a VERY private and romantic "one suite" B&B called...
It's a beautiful place... check it out! GH
This photo is of Ravi Shankar's daughter Anoushka, myself, author Timothy White and Ravi at dinner after one of his and Anoushka's annual Carnegie Hall concerts. The recording won a Grammy in World Music. It was the highpoint of my career as "a suit"! Getting to know and have conversations with Ravi about music I KNOW pushed me further in my own playing of the guitar... everything changed for me... I wasn't afraid of lead guitar. His philosophy of the "music flowing through you" gave me the freedom and inspiration to push myself further. Ravi was THE GREATEST musician I have ever met.
This is a photo of me doing promotion with Liza. I worked with her on two different labels on two different albums. At Angel we were best friends for about three weeks. Artists like her... Bernadette Peters... Sarah Brightman... and Kristin Chenowith... who all began in "the theater"... REALLY know what it means to work hard as they need to muster the power and energy to carry an entire show EIGHT TIMES A WEEK... They are amazing.
That's my boss... the legendary Bruce Lundvall in the background on his cell phone!
Meanwhile back to the story...
So for about 25 years or so... my life consisted of working for music companies by day... along with A LOT OF NIGHTS... and CRAZY AWFUL TRAVEL... all over the damned world.... London 57 times.... Tokyo 10... Hong Kong 8... Sydney 4... and every city in America with a decent sized music retailer.
And always straight in and out as fast as possible.
For my final few years in the business as the jobs became more international in scope... I lived in a world of perpetual jet-lag.
And trust me... travel is NOT fun after the first two months.... IT SUCKS!
And everyone seems to think that going out all the time hearing music sounds like a wonderful life. But imagine doing it three or four... or sometimes five times a week... usually for things you would never go to hear on your own. I had a personal policy of always trying to be at artist performances in the area. And this was a heavy load in Manhattan... especially during the EMI years when SO MANY artists were under international contracts. I was a "regular" backstage at Carnegie Hall and Lincoln Center. A master of sneaking in the back doors to be the first in line to say hello. I once went to FOUR different artist concerts in the same night... and said hello to ALL of them. The only way to do THAT? Is Subways! There's quite a story behind that night. I confess here for the first time that many of my three act opera nights at the Met had me spending the second act slamming down a burger across Broadway at a diner that they unfortunately have now torn down. I'm an opera lightweight.. Puccini and Mozart mainly... But I digress...
And I DID hear a lot of amazing music through the years... Bernstein's Mahler 2nd at Avery Fisher... Liza's come back concerts at Carnegie Hall... Yo-Yo at the ceremony for the handover of Hong Kong... Ravi ANYWHERE... far too many to count.
And I did LOVE working directly with the artists... planning projects and career directions. Unfortunately that became less and less of the job as the industry collapsed. I kind of rode the music business down like Slim Pickens on the bomb!
But I did savor my week nights when I could stay home.
And whenever I got a chance in these "off hours" I worked in my own studio... primarily in Manhattan where I lived for almost twenty years.
I made albums during my vacation weeks. I had a two bedroom apartment and the second bedroom was nothing but guitars and machines "top to bottom"!
I recorded EIGHT albums in Apartment 17F on West 50th...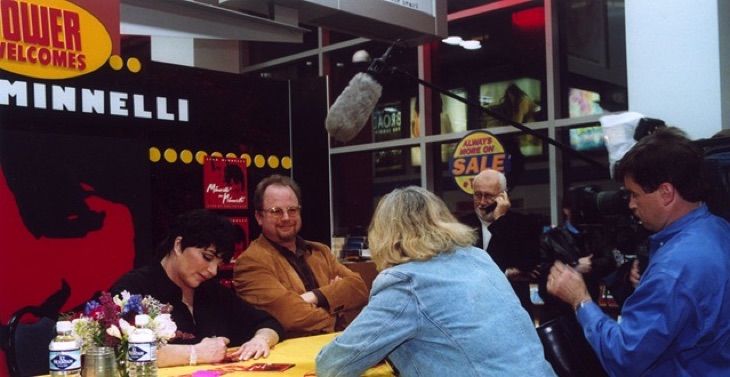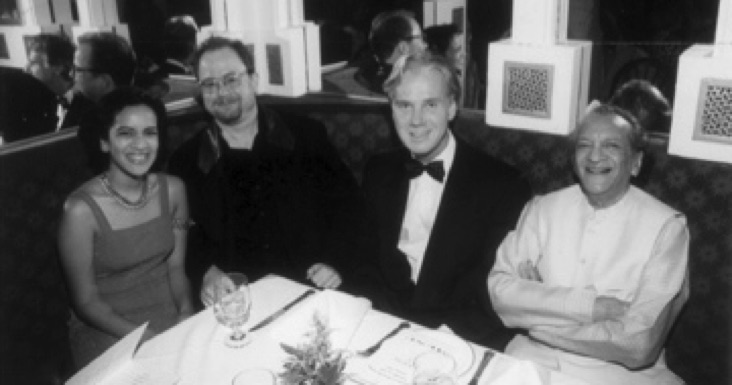 The Motion of His Feet - Live in New Orleans